Do You Know Hand-Tied Weft Hair Extensions?
What are hand-tied weft hair extensions?
Just like its name. Hand-tied weft hair extensions are purely handmade products woven entirely by hand. Its weft insertion is usually 11-12 inches wide. Hand-tied hair extensions are the wefts formed by the worker's hands by tying one hair with 2-3 threads. The weft itself (sewn part) is very thin and invisible, so it can be well hidden under your natural hair. Therefore, for most customers, if they want thick hair, you need about 150g-200g.
The advantage of hand-tied weft hair.
More comfortable
Since it is a purely handmade product, its production process will be more refined than machine-made hair extensions. The hand-tied weft hair extensions are very thin and very invisible. There is no fine hair around the weft, so it will be more comfortable to use.
More seamless
Unlike machine weft insertion, the range of manual lashing is very thin and almost invisible. Therefore, they can blend seamlessly into your natural hair.
More convenient
The hand-tied hair extensions are virgin hair extensions, which are high-quality hair extensions. With careful care, they will last more than 12 months. Therefore, in addition to naturally growing hair, you must reinstall them. You can wear them for more than a year. You can wash, straighten or curl them just like your natural hair. They will blend perfectly with your natural hair.
How to wear hand-tied weft hair extensions?
Method one: Habit hand-tied extension method
Part your hair and make a section.
Measure the length of the weft and compare it with your head then cut off the extra weft
Use a needle and thread to sew your hair to the end of the weft thread (refer to the picture)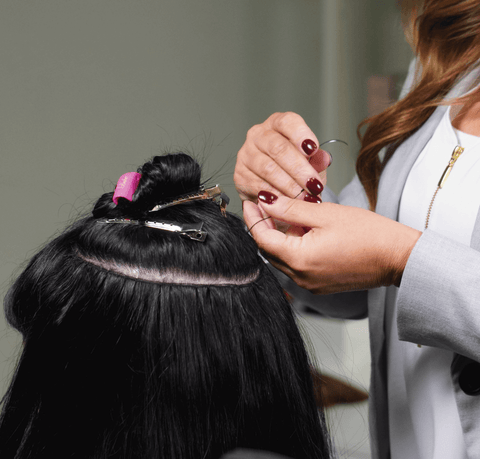 Remove: You only need to use small scissors to cut off the thread on the top of the sewn weft, so that the weft will fall off
Advantages: Firm installation, not easy to fall off.
Method two: Apply the weft bundles with micro rings
Part your hair and make a section
Measure and cut the weft to the length of the parted section.
Place a micro ring on the needle and open the hook.
Grasp a section of your natural hair and a section of the weft with the hook.
Then squeeze the micro ring firmly with the pliers, pressing hard until it is nearly flat.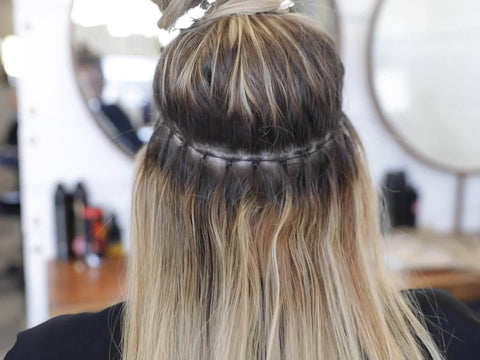 Remove: Try squeezing lightly at first and only increase the pressure if the ring doesn't loosen. Once the ring has widened, the extensions will release and should slide out easily. If the extensions have been worn for some time, they may need a gentle pull to release the extension away from the hair.
Advantages: More invisible. Even if you have a ponytail, you will not see the traces of using hair extensions.
How Long the hand-tied hair extensions be used?
The extensions are typically good for 8-10 weeks. After that time, you could take the hair out get the wefts moved up. As your hair grows, the wefts will move further from your scalp.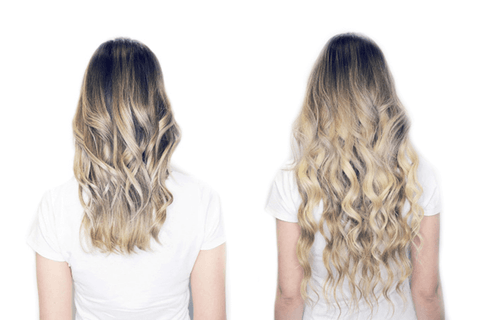 How to care hand-tied weft hair extensions?
Keeping hair extensions healthy is very important! Because the more carefully you take care of the hair extension, the longer the use time will be.
When combing your hair, you should start from the end and gently comb your hair to avoid hair loss. Do not comb or sleep with wet hair. Otherwise, they will be damaged.
Enough time to dry naturally is also very important, try not to dry your hair with a hair dryer!
Hair can be styled and bent, but remember that the higher the temperature, the greater the damage to the hair extensions.
If you want to learn more, please click here >>
Can I put my hair up?
Yes of course! You can effortlessly style the extension into any style of hair. Even if you tie your hair into tall and short braids, they will hide in your natural hair very invisibly.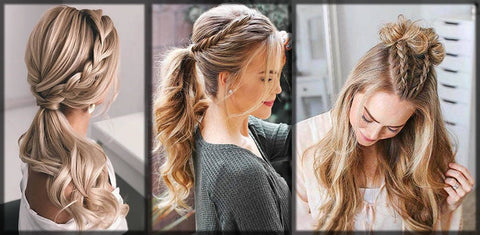 In short, extensions can both thicken and lengthen hair, so they can be used for many reasons. You can use them for a long time to strengthen your current hair. Of course, if you don't want to wear them for a long time, you can also use them only for special activities. They are perfect for weddings, holidays, graduation ceremonies, and even keep your natural hair alive for months.